Dr. Arthur L. Greene
Owner, Primary Veterinarian
Dr. Arthur Greene was always fascinated by puzzles while growing up, and he adored the company of any animal he happened to come across. As he got older, his love of biology started to blossom. What better way to combine his passion for science and his love of pets, he thought, than by working in the veterinary field? Dr. Greene's dream never wavered—now, he's the owner and primary veterinarian here at Homestead Animal Hospital!
Originally from New York City, Dr. Greene obtained his DVM degree from a university in Italy before returning stateside to begin his career. He joined the Homestead Animal Hospital family in the summer of 2001 and has been caring for the area's pets and animal parents here ever since. Dr. Greene is particularly fond of using the clinic's therapeutic services—including the hyperbaric chamber and therapeutic laser—to change patients' lives for the better. He's especially proud when he's able to help therapy animals who in turn provide services for special-needs children.
Dr. Greene is married and has two wonderful children. The family shares their home with Gracie, a miniature Schnauzer; a young Chihuahua named Abel who was born without front limbs; a Calico cat who goes by Cali; Tucker the Siamese mix; a pair of parakeets; and several tropical fish.
When he isn't spending time with family or tending to pets' needs here at the hospital, Dr. Greene enjoys skiing—he had some of his best runs in the Italian Alps during his time in veterinary school!—and also likes camping, quilting, and antiquing.
Dr. Jane Smiley
Veterinarian
Dr. Jane Smiley hails from the beautiful city of Cincinnati, Ohio. Her family had many pets through the years, and Dr. Smiley also made her rounds of her neighborhood after school every day visiting the dogs who seemed to be neglected and lonely. Dr. Smiley's love for all kinds of creatures never wavered, and she wanted to become a veterinarian from a young age.
As an undergraduate at the University of Notre Dame, Dr. Smiley's fascination with theology also blossomed. She graduated with her bachelor's degree in biology and theology in 1993. She graduated from the Ohio State University College of Veterinary Medicine in 1997. Dr. Smiley then went to Texas for a year-long internship at a specialty/emergency veterinary hospital. That is where she adopted Scooter, an orange tabby and white kitten with severe physical deformities who nevertheless had a big heart, a big personality, and a lot of gusto for life. Together Dr. Smiley and Scooter went through the twelve years of his roller-coaster life of medical crises and good times. "Scooter was my soul mate," Dr. Smiley says. "Being his companion made me a better person and taught me what a beautiful vocation it is to be a caretaker for someone else."
Since finishing her internship Dr. Smiley has lived in Cincinnati, Fort Lauderdale, Miami, New Orleans, Berkeley, and Toronto. She earned a master's degree in theology from Loyola University in New Orleans in 2006, and she is currently working on a Ph.D. in theology at Graduate Theological Union in Berkeley, California. Dr. Smiley's passion for theology and her passion for animals are one and the same. "I try to discern how God calls us to act toward and care for all of God's beloved, sacred creatures."
When she's not working as a veterinarian, Dr. Smiley spends much of her time studying and writing for her Ph.D. She also does a lot of bike riding, rollerblading, and swimming. And she enjoys going to the symphony, visiting art museums, and taking her crazy-overgrown-Yorkie-mutt Charlie to the dog park!
Dr. Yuberline Uzcategui
Veterinarian
Yuberline Uzcategui was born and raised in Venezuela. When she was a teenager, she was involved with farm work, having a special interest in cattle. She loved being a cowgirl and decided to study veterinary medicine. But during her career, she learned that she could be more than a cowgirl. So after graduating from the University Centroocidental "Lisandro Alvarado" (Venezuela) in 2009, she worked in a mixed practice until 2012 when she discovered her interests in companion animals. Then, she decided to move to Spain to achieve her Master's degree in Veterinary Clinic and Therapeutic Research and doing a rotatory internship at the University of Las Palmas de Gran Canaria.
Her background includes working and participating in different international training programs, which has given her in-depth experience in communication, varied medical skills, and excellent customer service knowledge. Parallel to this, she has increased her understanding of how veterinary medicine is applied and valued in different cultures through her work and experience in Venezuela, Spain, Saudi Arabia, and the United States. She firmly believes that veterinarians are trained to provide animal and human welfare, building effective and organized services for pet owner communities.
After a long journey as a foreign veterinarian, she is now certified in the United States to practice her profession. Dr. Uzcategui is proudly part of Amerivet and one of our doctors at Homestead Animal Hospital in Florida.
At home, she enjoys spending time with her cat Mabrook, who found her in the middle of the desert. Traveling together around the world has made them the best adventure-friends. When Mabrook allows her to go out, she enjoys being involved in a dance community, hiking, and playing volleyball. Also, she collaborates with the Street Dog Coalition Organization to help pets belonging to people experiencing or at risk of homelessness.
Nico
Hospital Director
Nico grew up in the Dominican Republic, where she had a variety of pets including dogs, cats, and birds—she's adored animals for as long as she can remember. Her other passion is helping people. As the Hospital Director here at the clinic, Nico is able to make a lasting impact on the community while serving the pets she loves so much!
Nico was referred to Homestead Animal Hospital by an old friend, and first started as a Boarding Specialist in 2001. She's since worked in almost all areas of the clinic—Nico managed the boarding facility, worked as a Veterinary Technician, and has served in the front office. In 2005, she was promoted to Hospital Director and has been serving the area's pet lovers in that capacity ever since.
Nico keeps a multitude of pets at home—she likes to joke that her house is more like a zoo! She has an umbrella cockatoo, Cookie; a red-foot tortoise named Little Dude; a pair of cats named Onyx and Marvin; four dogs who go by Buddy, Rocket, Alfie, and Penelope; and a flock of about nine chickens.
Nico's interests outside of animal care include cooking (a talent passed down from her mother), marketing and business strategy, and art. She loves painting and photography, and is even a licensed tattoo artist. She particularly enjoys using her work to benefit the area's pet owners—Nico has put her artistic abilities to use in various projects around the hospital over the years!
Yisel
Office Manager
Yisel has always been interested in medicine and is a true people person—she went to school to become a massage therapist and help others through the power of touch. Eventually, though, she realized that something was missing. When the time came to seek another opportunity, Yisel thought about another passion of hers: animals. A career in the veterinary world was the perfect fit!
Yisel is from San Bernardino, California, and first joined the Homestead Animal Hospital family in the spring of 2008 after being referred by a fellow staff member. She started as a Client Service Representative before becoming Receptionist Manager, then moved into her current position of Office Manager for the clinic.
Outside of work, Yisel enjoys fishing, spending time with family, and doting on her own pet at home, Chloe.
Cristin
Customer Service Representative
Cristin always knew that she would love to work with animals, but she found herself in the foodservice industry by the time she became a member of the working world. She never forgot the innate passion she felt for animals and their well-being, though. When Cristin came across the opportunity to work in her dream field—veterinary medicine—she didn't waste a moment! Now, she's happy to serve pet owners and their loveable companions as a member of the hospital's front-desk team.
Cristin is a native Floridian and first heard about an opening here at Homestead Animal Hospital through a friend of a friend. She joined the hospital family in early 2017 and has been a part of the team ever since. One of Cristin's favorite aspects of her work is the opportunity she gets to meet all kinds of people and pets on a daily basis, and the most rewarding part of her job is seeing pets leave the clinic happier and healthier than when they arrived.
When she's not here at the hospital, Cristin enjoys gardening and spending time with her family and pets at home. She and her husband share their lives with four cats—Leoncio, Simba, Porky, and Angus—as well as two dogs who go by Marlin and Terry.
Luna
Customer Service Representative
Luna is a Homestead native and grew up around all sorts of family pets. For her, animal care simply comes naturally. Getting to better the lives of both pets and their owners is a dream come true!
Luna joined the Homestead Animal Hospital family more than seven years ago and started as a Boarding Specialist. In 2018, she decided to make the transition to the front-desk team. Now, Luna is a Customer Service Representative and loves to meet and greet pets and owners when they arrive at the hospital. She's especially passionate about learning all she can about the medications and products that the clinic's visitors might need.
Luna's interests away from work include practicing her photography skills and spending quality time with her family. She has a wonderful son and daughter, and the family shares their home with a dog and a cat.
Lizette
Customer Service Representative
Lizette worked in a variety of fields throughout her life, including the banking industry and fast food. Her favorite out of all of them, though, was her time spent in a grooming salon for dogs. She's always known that she wanted to work hands-on to better the lives of animals! When the opportunity arose for Lizette to become a member of the veterinary profession, she jumped at her chance.
Lizette is a Homestead native and joined the Homestead Animal Hospital family in the summer of 2019. She serves as a Customer Service Representative and loves to interact with clients and their four-legged companions at the front desk. Helping families in their time of need is a dream come true for Lizette—she just can't imagine doing anything else.
Away from the office, Lizette enjoys anime, video games, drawing, and spending quality time with her family. Along with her husband and son (already a huge animal-lover like his mother!), Lizette shares her home with one pet: Sockz, a loveable dog whose favorite pastime is playing outside.
Izzy
Customer Service Representative
Ever since Izzy was young, she had a passion for helping animals and soon her family nick named her to dog-whisperer.  Helping animals in need and being their "voice" is a huge part of Izzy's passion for animals.  She currently has 8 dogs (three of whom are rescues) Luke, Leia and Minnie – and Luke and Leia just had 5 puppies. 
Izzy joined Homestead Animal Hospital in 2019 as a receptionist but quickly started cross-training in the tech team – which she loves because it is more hands-on with the animals.  On her days off you can find her swimming, at the gym or mudding in her jeep with her boyfriend! But when she's not doing that, she's spending time with her family, her boyfriend or, yes, her fur babies.  Izzy says she can't see herself doing anything else other than working with animals – she says its much more than a career, It's her passion!
Cynthia
Veterinary Technician
Cynthia grew up right here in Homestead, and her family always kept pets around the house. She spent hours alongside her beloved animal companions, but she never imagined that she would one day work hands-on with pets every day as a veterinary professional! But Cynthia gets to do just that—she's a Veterinary Technician with the Homestead Animal Hospital family.
Cynthia first started here at the clinic as a Boarding Specialist in March of 2014. In 2018, she moved up to a Veterinary Technician position. She's been helping pets and their owners in that capacity ever since! Cynthia's favorite thing to do at the clinic is see clients and their pets one-on-one in the examination rooms, and she's also fond of the constant learning experience her work provides.
Away from work, Cynthia likes spending her free time relaxing at the beach, swimming in the pool, and enjoying quality time with her family and pets. She has four cats at home named Simba, Dusty, Princess, and Omalley.
Zach
Veterinary Technician
Zach has truly grown up around veterinary medicine—his mother has worked in the animal-care field for nearly 15 years, and Zach always considered it a natural fit for himself. His passion didn't waver! He's spent his entire veterinary career right here at Homestead Animal Hospital.
A South Florida native, Zach joined the Homestead Animal Hospital team in 2011 as a Kennel Assistant. Through on-the-job training and plenty of hands-on experience, he's become one of the clinic's Head Veterinary Technicians. Zach's favorite part of his work is client education—if he sees a client leave the premises with more knowledge than they had when they walked in, he knows he's done his job! Since Zach has always had a dream to work in the communications field as a company representative, he realized his dream in 2017 by joining the very company that provides services to Homestead Animal Hospital and is now OUR hospital representative! We still get to see him weekly in addition to every Saturday as a Vet Tech!
Outside of veterinary medicine, Zach is a music lover and regularly attends concerts and music festivals. He also enjoys strategy games and has been participating in chess tournaments since he was a child. At home, he and his family live with a trio of cats as well as a loveable dog named Jordan.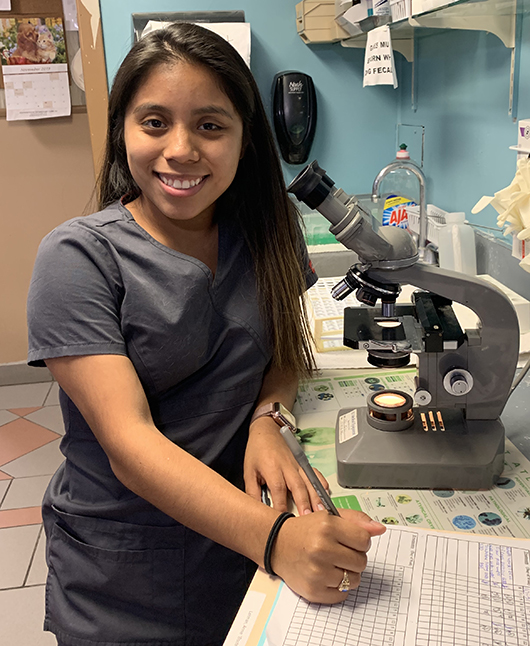 Cassandra
Veterinary Technician (in training)
Ever since she got her first pet as a child, a goldfish, Cassandra knew that she wanted to do everything she could to help other animals, too. She's had her sights set on veterinary care ever since she was a little girl! Cassandra's dream simply never quit—she's now a proud member of the boarding team here at Homestead Animal Hospital.
Cassandra is a Homestead native and first came to the hospital to complete volunteer hours. After her hours were completed, she was happy to accept a job offer! Cassandra is currently in school to study veterinary technology and plans to become a Veterinary Technician herself in the near future.
When she has a spare moment between her shifts here at the hospital and her duties for school, Cassandra likes spending time with her own pets at home. She has a lazy and loveable cat, Susie, as well as two adorable kittens who go by Sophie and Ashton.
Alliette
Veterinary Assistant
Alliette used to feed and care for stray pets through her partnership with a local animal welfare group, and never forgot the impact those experiences had on her. She wanted to become a veterinary professional to help all of the animals she possibly could—including those who don't have the luxury of getting a yearly checkup, or having their ears cleaned and nails trimmed. Alliette makes it her mission every day to better the lives of all the pets she comes across, and she gets to do it as a member of the Homestead Animal Hospital team!
Alliette first joined the hospital family when she applied to complete her summer internship here through her high school's veterinary assisting program. Once her internship was finished, she was offered employment as a Veterinary Assistant, a position which Alliette gladly accepted. Now, she gets to help pets hands-on every day!
Alliette particularly likes observing during surgeries and soaking up all of the knowledge she can from the hospital's doctors and Techs. She also enjoys bringing clients and their pets into the exam rooms and getting to chat with them on a one-on-one basis.
When time permits away from work and school, Alliette enjoys fishing, snorkeling, traveling, and training dogs. To date, she's had two dogs pass the Canine Good Citizen test! Alliette and her family share their home with several pets: Mini, a Chihuahua with no concept of personal space; Kit Kat the Pinscher mix who likes doing agility tricks while everyone is asleep; sister Bulldog mixes named Bella and Princess; and a sleepy ferret who goes by Onyx.
Jodi
Boarding Specialist
Jodi spent several years working as a cashier, but knew that her heart wasn't really in her job. She wanted to do something she was truly passionate about. When the opportunity came up for her to work hands-on with animals, she knew that she had found the perfect fit! Jodi has been an animal-care professional ever since.
Jodi was born in New York but has lived in Florida for many years. She joined the Homestead Animal Hospital family in early 2010, and has been enjoying every moment since—she loves to make sure that all of the clinic's boarding pets are comfortable and happy. Jodi also likes jumping in to help out the Technicians when needed, and finds that it's an incredible learning experience every time.
Jodi's interests outside of work include playing video games, watching television, listening to music, and doting on her own animal friends at home. She has three dogs: Vader, whose love and loyalty never fail to amaze Jodi; Kyra, whose favorite pastime is playing with her ball; and Pippy, who would sit in her mom's lap all day if she could.
Samantha
Boarding Specialist
For Sam, working in veterinary medicine is a family affair. Members of her own family worked right here at Homestead Animal Hospital, and she always wanted to follow in their footsteps! Caring for as many animals as she possibly could is all that Sam has ever wanted to do, and she's proud to now serve as a member of the hospital's boarding staff.
Sam joined the Homestead Animal Hospital team shortly after graduating from high school, and she's been here ever since. She loves to meet a wide variety of animal personalities every day, and she especially enjoys witnessing firsthand the special bonds between pets and their loving owners.
In her spare time, Sam can be found doting on her own dogs at home, playing video games, reading, or listening to music.
Cesar
Boarding Specialist
Growing up in New York, Cesar lived with his mother and stepfather when he got his first pet bunny called "Rosa-Pado"; whom he names after his grandmother whom he missed very much at the time.  That's when he knew he had a love and passion for animals!
Cesar has always been fascinated by anatomy and physiology and is currently in college classes to start his nursing career.  He manages to do school full time and put in close to full-time hours here at work!  Cesar is inspired by the microscopic events that take place on a daily basis and says it's as if he's looking into another world. 
Cesar has 4 pets which include his dog "Obie", his bunny "Qupit"', and two cats who apparently don't always get along when they fight for his attention. When he's not working or in class, you can find Cesar at home with his family and his pets!
Juliet
Boarding Specialist
Whenever Juliet came across stray pets in the streets, she would do everything in her power to help them. She's always been one to do whatever it took to better the life of a pet in need—what better way to put that passion to good use than by working in the world of veterinary medicine? Juliet is proud to serve as a member of Homestead Animal Hospital's boarding staff.
Juliet is from Miami and first started here at the hospital as a volunteer in February of 2019. By the summer, she had signed on as an employee! Her favorite part of her job is taking the clinic's boarding dogs outdoors and getting them the exercise they need. Juliet also loves to work alongside team members who are just as passionate about animal care as she is.
Outside of work, Juliet is an avid sports fan and helped lead her high school volleyball team to finals during her junior year. She's also a softball player and has won several awards for her efforts on the field! At home, Juliet has two pets: Bella, a Pit Bull/American Bulldog mix who always has a big smile on her face, and a cuddle-loving Fox Terrier named Princess.
Patricia
Hospital Maintenance
Patricia was born and raised in Colombia, and spent time around everything from dogs and cats to pigs and chickens while growing up. She's adored animals ever since her earliest days! Now, Patricia is thrilled to work alongside animals and a team of pet-lovers just like herself every day.
After coming to the United States from Colombia, Patricia settled in West Virginia, getting her foot in the door of the animal-care world by pet-sitting whenever she could. After moving to Boston, Massachusetts and working in a plastics factory, the opportunity arose for her to relocate again. That's when Patricia came to Florida and heard of an opening here at Homestead Animal Clinic through a friend of hers. She joined the clinic team in June of 2018 and hasn't looked back since!
In her free time away from work, Patricia likes working on arts and crafts and spending time with her bird, Pacho, at home. Pacho is especially fond of singing at abnormal times—Patricia wakes up to his harmonies every single morning!
Providing high-quality, compassionate veterinary care for the pets of Homestead, FL.
At Homestead Animal Hospital, we strive to make a personal connection with each and every patient which allows us to provide the best care possible. You can count on us! We'll be here when you need us most.
Hours
Mon – Fri: 8:00 am – 6:00 pm
Sat: 8:00 am – 1:00 pm
Sun: Closed
Location
1250 N Flagler Ave
Homestead, FL 33030
Ready to come see us?
Book your next appointment online in minutes. We look forward to seeing you soon!